Customization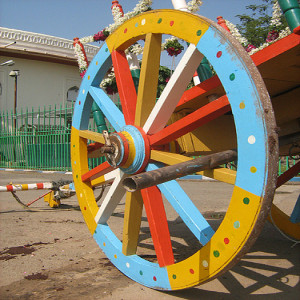 The Travel Scientists once heard the phrase about 'gilding the lily' and immediately took it as a challenge. Gilding is for amateurs. Let's get some neon on there, maybe some go-faster tiger stripes too.
Your wagon can be outfitted with everything from racing seats and snazzy sound-system to a bean bag lounge in back.
But why should only you and your accessories get the cool makeover? You can also get your bull team in on the action. India has traditions dating back millennia of Gopastami, which is the hand painting of cows with sacred symbols. This is entirely harmless process which is performed using natural pigments. Moreover, it generally pleases the cow with all the lovely attention. Pimp My Wagon presents to you the modern turbo-charged version – Pimp My Bull. How about some sporty tiger stripes for your bovine buddies? A makeover as the Milka cow? A tuxedo? Whatever you can imagine and describe to us, our local artists will see that your bulls are all dressed up with somewhere to go on the start day.
Customizations include…
A freshly (or custom) painted cart
A wagon canopy
Racing seats, with largely unnecessary seat-belts
Shiny new wheels
Cushions, beanbags, upholstery
Sound systems including amplifier and speakers
Cow bells
New harness and bridal wear
Bottle holders
Manual mechanical turn indicators
Mobile phone/ Gadget chargers ( DC out )
Disco ball
Strip lights
Under cart neon lights
Cooling fans
Ice box cooler
New Shoes for cows
For a little inspiration, check out what our madcap mechanics from Pimp My Shaw have provided for past expeditions of the fabulous Rickshaw Challenge. The deadline for submitting all Pimp My Wagon requests is 30 days before the start of the Bullathon. Some modifications may be included in your Adventure Package, any further modification will be made at individual expense.